Remarkable Rewards
How Does Remarkable Rewards Work?

This program is based on giving you millions of reward choices such as gift cards, appliances, electronics and 
CASH BACK
 for the points you earn. Simply use your Remarkable Rewards VISA Credit Card and/or Debit Card at gas stations, supermarkets, stores, and anywhere else. When you shop and 
SIGN 
for your purchases, you earn more and get rewarded. For example:
Earn 1 Point for every $2 you spend on Debit Card purchases
Earn 1 Point for every $1 you spend on VISA Credit Card purchases
Earn additional points by opening select new loan accounts and using other OMEGA FCU services.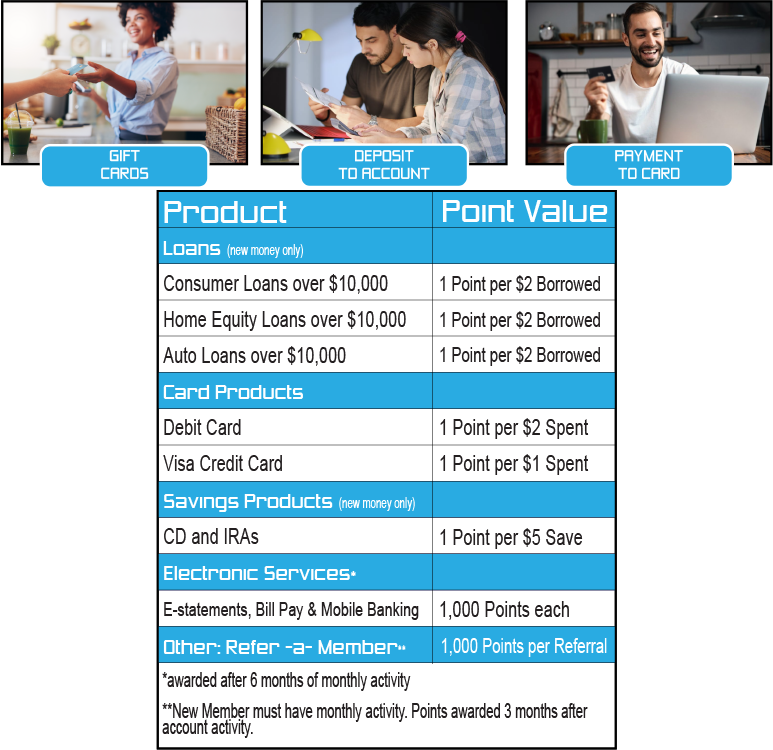 ---
To Start Earning Rewards Register Your Debit Card Here
You will need to register each card you may have in your household separately but when you are ready we can merge the points for you.
---
Remarkable Rewards Program Frequently Asked Questions
I already have a debit card; do I need a new card? No, just register the card at www.curewards.com to start earning points.
When I use my debit card, do I select PIN or Credit? Only purchases made using the credit or signature option qualify for points. PIN based transactions DO NOT qualify for points.
I have a VISA credit card; do I need a new card? NO, you do not need a new card, but to start earning points you must register your VISA card at www.curewards.com.
What are the minimum points I need to earn rewards? Once you earn at least 1500 points, you may start redeeming them for rewards.
How do I redeem my points? You can redeem your rewards at www.curewards.com or by calling 1-800-637-7728. 
Will my points expire? Your points expire 5 years after being earned and posted to your rewards account.