Visa Credit Card
---
OMEGA FCU's VISA Credit Card not only offers our members the best rewards program available, but it also offers:
An excellent low interest rate
NO annual fees
1.99% APR* balance transfers with no minimum transfer amount
Excellent Member Service
EMV Chip technology for added security
For 24hr cardholder service or if lost/stolen card: 1-866-604-8187
---

Once you have your card registered you will be able to:
View transactions on your card
Sign up for electronic statements
View Payment activity
Sign your account up for rewards
Add an account at an outside financial institution to make a payment
Add travel dates to your card

*APR= Annual Percentage Rate. Your VISA card standard variable APR is based on Prime Rate plus a margin which is determined by your credit worthiness. Balance transfer amounts may not exceed your credit limit. OMEGA FCU loans are not eligible for promotional balance transfer rate. Rate is subject to change without notice. All approvals are subject to normal underwriting guidelines. 1.99% APR balance transfer rate will revert to your standard variable rate after 11 billing cycles.
---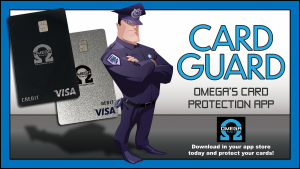 Enjoy easy and on-the-go management of your credit and debit card with the OmegaFCU Card Guard app from OMEGA! This app offers a convenient way to:
• View recent and pending transactions.
• View account details.
• Make a payment to your credit cards.
• Report your card lost or stolen.
• Raise a dispute on a transaction.
• Set alerts and controls, including ability to turn cards off and on
• Set travel notifications.
Card registration is cinch from any mobile device, and access is secure and protected by multi-factor authentication.
Go to your App store and search: OmegaFCU Card Guard