Consumer Loan Products
---
OMEGA FCU offers a variety of very affordable loan products to meet your financial needs. Whether you are going on a vacation, purchasing a car or consolidating some debt, we have the consumer loan for you!
---
Vehicle Loans
New and Used Vehicle Loans
OMEGA FCU can help you purchase a new car or refinance your existing auto loan at another lender. We offer low rates, flexible terms and financing up to 100% of the purchase price. We also offer convenient pre-approvals so you know what you can afford before you shop for your new car.
In the Market for a new car?  Read the following money saving information before going to the car dealer!  Rebate vs. O% Financing – Taking the Rebate may be the right choice for you! OMEGA FCU's low member rates, combined with the rebate may be the best choice.  If you would like a specific comparison with a personalized quote, please call our Loan Department at 412-369-3800 and choose option 1.
The following link can help you calculate payments:  Calculate a Vehicle Payment
Wondering if you should lease or buy? Use this calculator to see what your best options are: Purchase or Lease a Vehicle
*APR=Annual Percentage Rate. Rates are subject to change at any time without notice.  Rates shown are the lowest rates offered. All approvals are subject to normal underwriting guidelines and individual rates may vary depending on credit worthiness. Rates shown include discounts for required accounts services and qualifications. New money only. Current OMEGA FCU loans do not qualify for promotional rates.
---
Recreational Vehicle Loans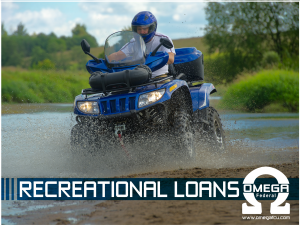 Low rates and flexible terms to purchase new or used RV's including boats, motorcycles, ATVs, motor homes, travel trailers and more! We finance up to 100% of the purchase price and easy pre-approvals are available.
Guaranteed Asset Protection (GAP)
GAP is available to every member that finances any type of car or RV with OMEGA FCU. If your vehicle is stolen and not recovered or is damaged and unable to be repaired per your insurance carrier, GAP will pay the difference between the auto insurance settlement and the outstanding loan balance. GAP provides you piece of mind by relieving you of any remaining balances. This affordable protection is built into the monthly loan payment.
Mechanical Breakdown Coverage
Members may take advantage of this low cost coverage for any vehicle they own. The vehicle does not have to be financed at OMEGA FCU. Mechanical Breakdown Coverage is a vehicle warranty to cover the costs of expensive repairs. This coverage tends to be less expensive than the plans offered at car dealerships. There are various plans to choose from with different terms, levels and deductibles and most vehicles are covered. This optional coverage may also be financed when obtaining your loan. Ask a Loan Representative about this money saving coverage today.
To apply for an OMEGA FCU vehicle loan, call our Loan Department at 412-369-3800 option 1 or Click here to apply online.
---
Personal Loans
OMEGA FCU offers an assortment of personal loans to meet your financial needs
Unsecured Loans
Loans granted for whatever your personal need may be at low interest rates and a variety of loan terms.
Share Secured Loans
Finance a loan using the funds in your savings account or a Share Certificate as collateral. This loan offers a low interest rate of 3% APR over the rate earned on the account.
Consolidation Loans
Consolidate your debts into one affordable monthly payment. Take the stress out of paying your monthly bills to various lenders and roll all of your bills into one loan at a low interest rate and a flexible term. See how much you can save with Debt Consolidation
Personal Line of Credit
This loan is an unsecured, variable rate credit line that can be used at any time for any reason. Lines of credit can be used for purchases, as an emergency fund or for overdraft protection for your OMEGA FCU checking account. Access these funds via online banking, MOH phone teller, Line of Credit checks or in person at any branch or service center. A Personal Line of credit is a flexible loan product to meet all of your financial needs.
Holiday and Vacation Loans
The perfect short-term low interest rate loan to finance your holiday shopping or that dream vacation! Take the stress out of the Holidays or relieve some stress and get away for that much needed break!
Student Loan Program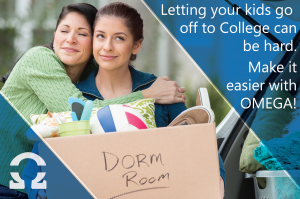 OMEGA FCU offers a low interest fixed rate loan with terms up to 5 years to pay for schooling at any level – primary through college!
To apply for an OMEGA FCU personal loan, call our Loan Department at 412-369-3800 x 702 or Click here to apply online.