Digital Banking Platform

OMEGA FCU offers an array of convenient electronic services to make your financial life stress-free while saving you money! OMEGA FCU is your personal financial advocate. It's fast, secure and makes life easier by empowering you with the tools you need to manage your finances.
Here's what you can do with OMEGA FCU:
– Keep your transactions organized by allowing you to add tags, notes and photos of receipts and checks.
– Set up alerts so you know when your balance drops below a certain amount
– Make payments, whether you're paying a company or a friend
– Transfer money between your accounts

– Deposit checks in a snap by taking a picture of the front and back
– Reorder your debit card or turn it off if you've misplaced it
– View and save your monthly statements
– Find branches and ATMs near you
– Aggregate your financial accounts
Secure your account with a 4-digit passcode or biometric on supported devices.
Once enrolled, you may also sign up for our additional Free electronic services that include: E-statements, Bill Pay, E-notices, Mobile Banking and Money Manager, our personal financial management tool.
Go to your App store and search: omega fcu for our Mobile Banking app and omegafcu card guard for our debit and credit card protection app.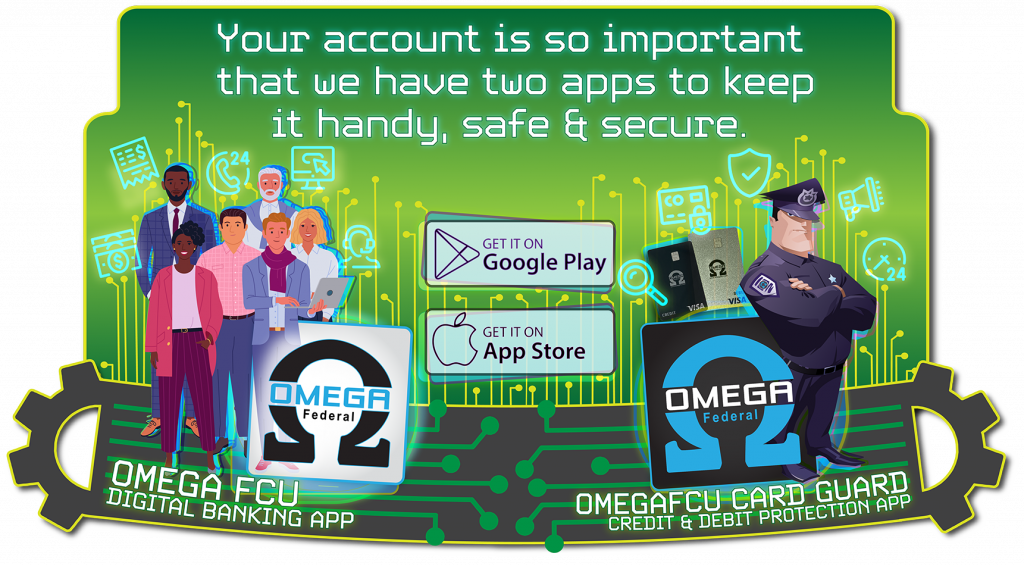 ---
For a list of more Frequently Asked Questions about our new digital banking platform please click here
Please know that we are available for any issues or questions that you have in regards to our new on-line and mobile banking apps. Please give us a call at 412-369-3800 or e-mail us at ofcumembers@omegafcu.com if we can assist you in any way.